Gad Dairies. Being special is their USP
This year, while focusing on expanding its line of products for the private and professional markets, Gad Dairy has also focused on communicating consumption opportunities for its cheeses and yogurts
Published: 15.11.2015 18:00

Gad Dairy's story begins in the Balkans in the 19th century, where the Cohen family's first dairy was founded in Turkey. The family continued to produce and sell cheeses after immigrating to Israel in 1904. In 1980, Ezra Cohen, Gad Dairy's owner and CEO, opened his first dairy – 100 years after his great-grandfather and namesake first began producing cheese in Turkey.
After many years of focusing on the professional market, in 1996 Gad Dairy began producing a range of premium cheeses for the private market as well.
In 1999 Gad Dairy created a uniform blue brand presence for all its products, under the marketing slogan: "Gad Dairy – Always Special".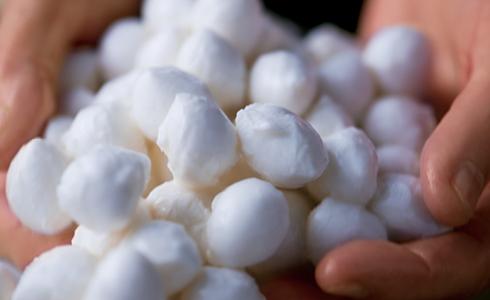 Gad was changing the Israeli's attitude toward special cheese
Competitive Environment
For years special cheeses could be found in Israel only at delicatessens. But since Gad Diary entered the private market and retail chains in the mid 1990's, the special cheeses category has been constantly on the rise, and in recent years Gad has further increased its control over this market category.
Gad Dairy's blue branding and premium packaging look alongside uncompromising quality, has established its position and maintained its differentiation and leadership in the special cheeses category. At the center of Gad's marketing strategy is "Grandfather Gad", whose signature appears on every package, giving it a stamp of quality and commitment.
Marketing Challenge
The main challenge faced by Gad Dairy is to continue to maintain its position in the special cheeses category by strengthening its relationships with consumers and with the professional market.
Gad's cheese: being special is a strategy
Creative Solutions
To meet this year's challenges, Gad Dairy has acted on a number of levels: product innovation; a campaign to increase the sales of Balkan Yogurts; and a continuation of the "Gad Morning" promotional campaign.
Product innovation – one of the values that have accompanied Gad Dairy throughout its existence is the experience of tasting its products. In order to increase product variety, this year towards Shavuot ["The Feast of Weeks" – a Jewish holiday during which it is customary to eat dairy products] Gad Dairy introduced a special edition of French Camembert cheese made of 100% sheep milk with truffles imported from France.
The truffle is considered the most expensive mushroom in the world – thanks to its exquisite taste and its scarcity in nature – and it is considered a high quality raw material and a symbol of prestige. The combination between the soft, buttery texture of the camembert and the truffle creates a refined spicy flavor.
The product launch was supported by public relations and advertisements in culinary magazines.
Balkan yogurts: Gad Dairy offers three types of yogurts – made of goat, sheep and cow milk – through traditional Balkan production methods. This year, as part of a marketing campaign aimed at increasing yogurt consumption, consumers were presented with a range of serving suggestions involving the dairy's yogurts. The accompanying digital campaign included six short videos showing how to prepare yogurt with beetroot, zucchini, and even yogurt popsicles.
At the same time, the dairy launched a tasting campaign at points of sale, in which consumers were offered a taste of Gad's yogurts with different toppings such as granola and cranberries. The idea was to expose the public to the many different ways to use yogurt and to provide creative ideas on how to consume yogurt at home.
Gad morning – for the past three years Gad Dairy initiated an original sales promotion campaign entitled "Gad Morning", in which it challenges chefs from leading restaurants to prepare creative breakfasts, based on the dairy's products.
This year the campaign focused on a single dish that is especially recognized with Israel: The Shakshuka. Gad Dairy asked chefs from 60 leading restaurants to prepare their interpretation of the dish, using the brand's cheese varieties. The campaign, which lasted an entire month, was promoted on digital channels as well as in special inserts included in the menus of participating restaurants.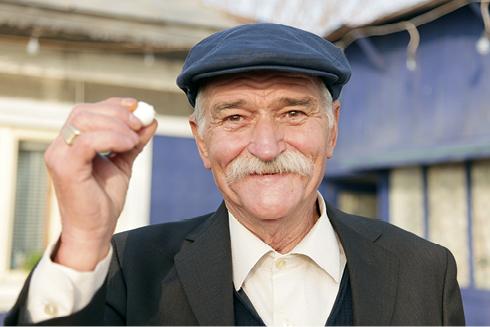 Gad's "grandpa" is the brand's presenter
Shavuot Campaign
With an aim at communicating the family values and traditions strongly identified with Gad Dairy, this year's concept for Gad's Shavuot campaign was "Who are you doing the Gad with?" corresponding with the common Israeli question: "who are you doing the Chag with?" [The Hebrew word "Chag" means Holiday].
The question opened Gad's commercials, and was followed by a range of answers including: "It's not Shavuot without Gad's Bulgarian", or "It's not Shavuot without Gad's Tzfatit".
In addition to TV commercials and billboard ads, the campaign was further supported by a game with prizes, presented on social media channels. In the game, consumers were asked to organize their virtual holiday table, selecting the dishes to be served, and inviting their friends to join the table.
Continued Market Penetration of the New York Brand
As part of its strategy to penetrate new categories, last year Gad Dairy decided to enter the spreadable cheeses category – with an emphasis on cream cheeses. To achieve this goal, for the first time since its establishment, the company founded a sub-brand under the name of 'New York'.
The New York product series includes 30% fat cream cheeses offered in four flavors: natural, grilled vegetables, fresh basil and olives – with the same flavors offered also in a lighter version containing only 5% fat.
Following the successful launch of New York cheeses in the beginning of 2014, this year Gad Dairy launched a TV advertising campaign presenting the various flavors to the market. The flavors were also offered for tasting at points of sale.
Professional Market Activities
During 20015 Gad Dairy continued to focus also on the professional market, with the aim to develop a range of products addressing the unique needs of food professionals.
This year the dairy launched two new products for the professional market, both high quality products suitable for the 
modern kitchen:
Salta – a hard ricotta cheese for grating, produced using the traditional Italian method; with relatively low fat for a hard cheese. Chefs use it to grate over spicy pasta dishes, on pizzas and on fresh salads.
Ghee butter (also known as Samna) – a purified butter made of goat fat; especially suitable for professional and institutional kitchens. In parallel, the dairy continues to support pizzerias who use 100% Gad's mozzarella by granting a special "standard stamp" under the name "Gad Inside". The standard allows pizzerias to communicate the fact that they use quality mozzarella cheese, while relying on Gad Dairy's market image and high positioning.
Gad's product are the at the heart of Jewish holidays

Things You Didn't Know About Gad Dairy
The middle name of Ezra Cohen, the company's owner and CEO, is Gad, and he was born on Shavuot.

Gad Dairy was the first manufacturer of Mozzarella cheese in Israel.

Gad Dairy experts have found that the optimal size of a cube of Bulgarian cheese accompanied by a slice of watermelon, is 1x1x1 cm.

Every month over half a million of Gad's Baby Mozzarellas are sold.

Gad's Sheep Milk Yogurt was awarded the 2015 "Product of the Year" innovation award.

Some of the brand's milestones:
| | | |
| --- | --- | --- |
| 1900 | - | Establishment of the Cohen family's first dairy. |
| 1980 | - | Gad Dairy is founded by Ezra Cohen. |
| 1983 | - | Gad Dairy begins production of Mozzarella cheese. |
| 1996 | - | Following a rebranding process, the brand's blue-purple color is adopted for the entire product line. |
| 2012 | - | Launch of Gad Inside – a standard for the professional market. |
| 2013 | - | Gad emphasizes the presence of the grandfather in the brand's marketing communications. |
| 2014 | - | Launch of the brand's move to penetrate the cream cheese category via the New York sub-brand. |