From tuna fish to salad in 10 seconds
In line with the continued implementation of the company's strategy of expanding the use of tuna to cooking and baking, this year Starkist Food d'Or launched two new products, especially suitable for the most popular uses of tuna in Israel: StarKist Le-Salad and StarKist Le-Sandwich
Published: 15.11.2015 18:00

In 1910, Yugoslav immigrant Martin Bogdanovich bought a fishing boat and began fishing along the California coast. Eight years later, during the First World War, Bogdanovich and his five partners founded French Sardine Co., supplying canned tuna to US troops fighting on the European front. In 1942 the company changed its name to StarKist.
Starkist Food D'or, established in 1999 by Michael Mitelman, holds the exclusive and permanent concession in Israel for the StarKist brand. In 2009 "Diplomat" acquired 50% of the company's shares, becoming its distributor and partner.
Competition
The Israeli canned fish market has an annual turnover of over NIS 500 million (in consumer prices). The canned tuna category accounts for a large share of this market, in which StarKist holds over 40% market share (Storenext, 2015 data).
The past two years have seen a revival in the tuna category, resulting from a number of parallel events: global decline in the price of raw material of tuna; and the conclusions of the Trachtenberg Committee for Social & Economic Change, possibly leading to reduced taxation on imported goods. In addition, Israeli food chains have realized that canned tuna is a basic staple – and as a result canned tuna has gained center stage in sales promotion campaigns. The accumulative result of the above is increased competition, and price erosion.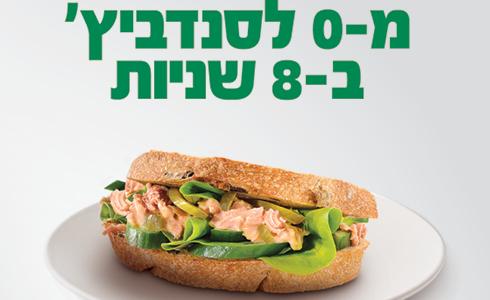 Le Sandwich. Prepared in 8 seconds exactly
Marketing Challenge
Contrary to competitors in the category, for years StarKist has opted for the value strategy, refusing to be sidetracked by prices. The brand's biggest challenge is to maintain its market share without eroding prices, while giving consumers a real and tangible added value in all their dealings with the brand.
Creative Solutions
Studies by StarKist show that approx. 70% of Israeli consumers add tuna to their salad, 72% use it to prepare sandwiches, while 55% use tuna as an ingredient for tuna spread with mayonnaise. The company realized that targeted products developed specifically for these uses would be attractive to most consumers, significantly improving their consumer experience and increasing sales. Based on these conclusions, in 2015, following two years of development, Starkist Food d'Or launched two new product lines:
StarKist Le-Salad. A unique development worldwide – Canned tuna chunks mixed with salad dressing. Simply open a can, empty its contents into a bowl of chopped vegetables, and mix. The product line includes three choices of dressing: Vinaigrette, Caesar or Oil-garlic-lemon.
StarKist Le-Sandwich. A line of tuna and reduced fat mayonnaise sandwich spreads, with a choice of one of the following three flavors: pickles, chili or fried onion.
These two new products do not require refrigeration, are convenient and portable. However, contrary to other "on-the-go" products, in which quality and flavor are often compromised for convenience - StarKist insisted on developing especially high-quality products. During its production process, the tuna is cooked together with either dressing or mayonnaise, allowing it to absorb flavors and creating a unique and improved flavor experience compared with the homemade alternative.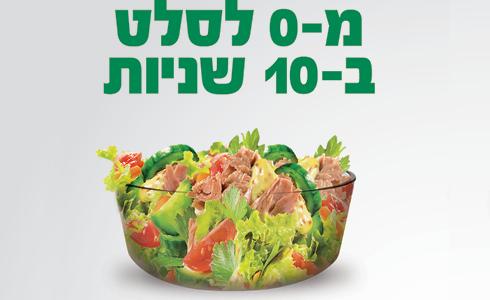 Le Salad. Just add vegetables
In the new StarKist commercial, a busy mother mounts a heavy motorcycle and heads out on a speedy road trip while preparing a salad or sandwich. In the end of the commercial the mother says: "there are other ways to prepare a tuna salad (or sandwich)", and the announcer presents the new product line.
The concept of speed was also communicated in adverts and billboards with messages such as "from 0 to sandwich in 8 seconds". The new product lines join a range of products launched by Starkist Food d'Or in recent years, all aimed at innovating and expanding the category: flavored tuna, 5% fat tuna, 99 calorie tuna in olive oil (with plastic cap and fork), smoked tuna fillets and tuna in extra virgin olive oil.
Tuna Use – Expended
As mentioned above, Starkist studies have shown that nearly all tuna consumed in Israel is in sandwiches, salads or directly out of the can. Moreover, 75% of tuna in Israel is consumed during dinner – normally a light meal.
Following these findings, the company concluded that in order to increase tuna consumption, a far reaching marketing campaign is needed, aimed at educating the market to use tuna in cooked dishes – uses which at the time constituted only about 10% of the population's overall tuna consumption.
Consequently, a long-term strategy was developed to increase tuna consumption, based on two current trends which have gathered momentum in the Israeli market in recent years:
1. A proliferation of "foodies" – consumers who watch cooking programs on TV, like to cook and are open to experiment with new recipes and ingredients.
2. An increased awareness of "ethical food consumption" – one of the basic tenets of which is reduced consumption of red meat and poultry and a search for protein substitutes.
In order to inspire consumers with the wide range of cooking and baking possibilities with tuna, the company launched branded health and nutrition content channels, appearing on the Israeli news website ynet and life-style website Xnet. In addition, dozens of tuna-based recipes were produced and published in lifestyle and culinary magazines, with similar recipes prepared by leading chefs on Channel 2 and Channel 10 cooking shows.
To support this campaign by increasing the product's' shelf visibility, the brand's packaging design was updated – especially the cardboard packaging of the 4-pack – the company's bestselling product – with each package showing a picture of a tuna-based dish and directing consumers to the full recipe on the company's website.
Finally, a multi-channeled campaign was launched during the past year, presenting tuna variations of popular dishes from the Italian, Moroccan and Asian kitchens.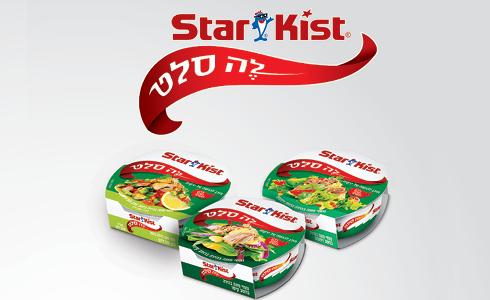 Starkist. More than just a canned tuna
Low-Sodium Tuna
It is well-known that excess consumption of sodium contributes to high blood pressure and increases the risk of a stroke, cardiovascular disease, renal insufficiency and more. To cope with these risks, the Ministry of Health launched a national plan for reducing sodium consumption among the general population, encouraging self-regulation by local food manufacturers to reduce sodium levels in their products.
Following its strong commitment towards consumer health and recognition of the fact that its product holds a central place on the Israeli dinner table – by the end of 2014 StarKist reduced sodium levels in all its products by approx. 20%. In addition, this year the company launched a new product, unique in the Israeli market: low sodium tuna in oil or in water, containing approx. 80% or 50% less sodium compared to the regular product in oil or water (respectively).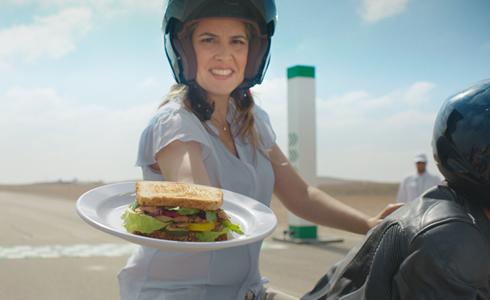 Le Salad campaign. The need for speed

Things You Didn't Know About StarKist
92 cans of StarKist tuna are opened in Israel every minute.

StarKist products contain no preservatives.

StarKist is the first tuna brand to launch the 4-pack package in Israel – the best-selling tuna product in the country.

75% of tuna consumption in Israel is during dinner.

For the past five years, StarKist products have won the "Product of the Year" international innovation award and Superbrands marketing excellence title.

'Charlie the Tuna', the brand's cartoon mascot, was created in 1961 by advertiser Tom Rogers.

Some of the brand's milestones:
| | | |
| --- | --- | --- |
| 1942 | - | French Sardine Co. changes its name to StarKist. |
| 1961 | - | Introducing Charlie the Tuna - the cartoon mascot for the Starkist brand – still an important part of the brand today. |
| 2000 | - | Starkist Food d'Or Ltd launches the StarKist brand in Israel. |
| 2002 | - | StarKist launches the 4-pack tuna package in Israel. |
| 2014 | - | StarKist launches the 6-pack tuna package in Israel. |
| 2015 | - | StarKist Le-Salad and StarKist Le-Sandwich are launched in Israel. |