Sugat's sweet marketing moves
Over the past year, Sugat has continued to engage with consumers through digital content activity and a television campaign that connected home-cooked dishes with family values. Additionally, Sugat solidified its entry into the institutional catering market by recognizing the market's needs and developing especially designed products and packaging
Published on: 15.11.2015 18:00

Sugat Industries was founded in 1957 as a sugar processing factory in the south of Israel. Due to a water shortage, the factory shut down, and the company began importing, packaging and marketing sugar. More recently, following changes in the international market's sugar supply, the company established a sugar refining factory in Kiryat Gat.
Over the years, due to the company's ability to spot trends in the field of food and due to its attentiveness to customer needs, the brand expanded and currently includes rice, legumes, grain, flour, pasta, cuscus and accompanying products used for cooking and baking.
This past year, Sugat further secured its status as one of the 15 largest food suppliers in Israel (based on data by StoreNext for 2014).
The Marketing Challenges
This year, Sugat's Marketing Department faced two main challenges:
1. Maintaining its status as one of the largest food suppliers in Israel, while using its marketing and advertising budget in an efficient, innovative and creative manner.
2. Progressing into the institutional catering market.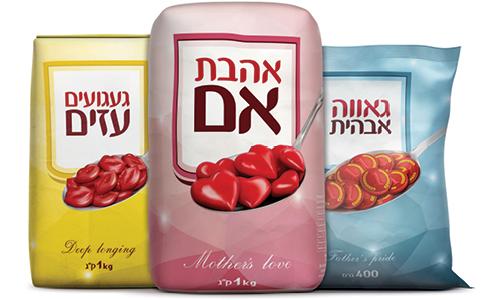 Sugat's campaign. You can't buy me love
The Creative Solutions
Sugat decided to continue strengthening ties with consumers by further developing its digital content and run a television campaign that links home-cooked dishes with family emotions. In addition, it decided to solidify its presence in the institutional catering market by recognizing the market's needs and developing especially designed products and packaging.
Activity in the Digital Arena
Sugat's marketing strategy focuses on creating and providing potential customers with practical, high-quality content with an added value, based on its activity in the culinary field.
Each year, Sugat examines the previous year's digital activity while recognizing online users' needs and fields of interest. By doing so, it is able to hone its content and concentrate its activity in the digital arenas where users look for recipes and tips that can be implemented in their own kitchen.
Sugat not only offers recipes using the main products it promotes, such as rice or sugar, but in every field where it offers solutions, including such products as baking flour, fondant and more. By doing so, Sugat is able to provide comprehensive content for the home cook in all areas of cooking and baking, while supplying thousands of recipes, tips and culinary ideas that suit the Israeli kitchen and allow cooking and baking enthusiasts to improve and diversify their repertoire. In order to produce a large amount of high-quality culinary content, Sugat has placed a series of leading chefs and key developers in the food industry at the center of its digital activity. Several major platforms are used to offer access to recipes and product information to as wide an audience as possible. Sugat has teamed up with Walla! and Mako, two of Israel's major content platforms, to offer especially designed content channels. Through these channels, hundreds of thousands of visitors are exposed to the diverse content being produced.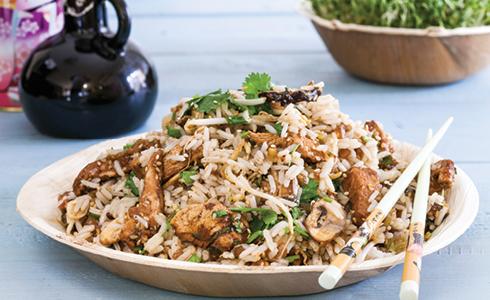 Sugat has decided to launch a "comport food" campaign
Among the different types of content that Sugat provides for cooking and baking enthusiasts are quick everyday recipes, healthy recipes, baking recipes for the amateur and professional baker, holiday and Shabbat recipes and articles. All of these are accompanied by pictures and professional video clips, starring the finest chefs and recipe writers in Israel. Original content is also available on Sugat's website, which contains thousands of recipes, video clips, articles and consumer information on its products, and it is also distributed through the company's YouTube channel and active Facebook page, which lists tens of thousands of followers. All this allows Sugat to gain widespread exposure for quality content while maintaining a constant and immediate dialogue with Israel's cooking and foodie community.
The success of Sugat's marketing strategy is reflected in Israel's legume sales, in which Sugat plays a major role. In the past, legume sales were markedly higher during wintertime, which is characterized by heavier dishes. Over the past few years, however, legume summer consumption has substantially risen, due to Sugat's year round content activity.
The Television Campaign
Changes in Israel's retailing field and the effects of consumer protests emphasize how important the link between a brand and its consumers is to its future success. Sugat's clear advantage lies in the fact that in many cases, its products are used as the basis for dishes that are consumed during family meals, holiday meals and Friday dinners. For this reason Sugat's advertising strategy focuses on connecting its products with core values and emotions that are an inseparable part of the Israeli public's personal and familial way of life.
Sugat's 2015 television campaign was based on the substantial role that food plays in connecting people, and on three core emotions that characterize the Israeli family: maternal love, paternal pride and intense longing. As part of the campaign, three commercials were aired, linking home-cooked "comfort food" based on Sugat products with these emotions, which can be found in every family. During one of the commercials, the announcer could be heard saying: "A one kilogram package of a mother's love. This cannot be found in any chain store or at any price, but the rest of the ingredients needed to make the perfect rice are on us," while Sugat's range of rice products was displayed on-screen.
Further Entering the Institutional Market
After many years of solidifying the company's status as a cooking and baking products provider in the retail market, Sugat decided to expand its activity to the institutional catering market, as well. One of the factors that affected this decision was repeated requests made by those in the field to have Sugat supply them with products designed for their needs, as well as especially packaged cooking and baking solutions. Entering the institutional market was done through three central moves:
1. Leveraging the reputation and professionalism in the retail market, regarding both product quality and sourcing and distribution.
2. Identifying the needs of the food service industry.
3. Acting as a one-stop-shop that provides clients with product and service solutions on any scale – be it for cafés, small restaurants, catering services or large hotels and institutions.
Sugat's strategic course of action in the institutional field was focused on identifying its needs and developing adequate solutions for them, not only in regards to the product, but also relating to a low cost-benefit ratio. As such, Sugat decided to design and provide the catering market with larger packages of products than those found in the retail market, thus meeting their needs in terms of quality and quantity.
In order to strengthen its connections with major players in the institutional market, this past year Sugat added Chef Yossi Shitrit, of Kitchen Market at the Tel Aviv port, to its ranks. Shitrit represents Sugat in exhibits and conventions aimed at the institutional market, and also provides especially designed and instructive lectures. Shitrit discusses the diverse solutions Sugat provides in all of his interactions with the institutional public.

Things You Didn't Know About Sugat
Over the last few years, Sugat has launched over 65 new products.

Sugat's factory in Kiryat Gat implements environmental preservation programs and has switched over to working with natural gas.

Each month, Sugat's food channels see hundreds of thousands of unique visitors.

Some of the brand's milestones:
| | | |
| --- | --- | --- |
| 1957 | - | Sugat founds its factory in Kiryat Gat. |
| 2000 | - | A new corporate identity and logo emphasize Sugat's name on its packaging. |
| 2011 | - | Sugat expands its activity in the field of flour. |
| 2013 | - | Sugat expands activity in the fields of baking and cooking. |
| 2014 | - | Sugat begins to work in the institutional catering market. |
| 2015 | - | Sugat ranks as one of the 15 largest food suppliers in Israel. |