The colorful campaign by Tambour
Over the past year, Tambour has implemented a comprehensive renewal process based on a new strategy – "Tambour's House – all solutions under one roof" – with a rebranding and renewed focus on the strategic advantages of Israel's largest provider of construction and finishing solutions
Published: 15.11.2015 18:00

Tambour, a paint manufacturing factory established in 1936, expanded over the years to include a large product range addressing all construction finishing needs. During the 1960's the company name gained a generic meaning in Israel's DIY shops, which ever since have been known as "Tambouriot" (Tambour stores). Today, alongside a world of paints branded under the Tambour brand name, the company has also established the most advanced Gypsum board plant in the Middle East and has become a leader in the dry construction products category.
In 2014 the company was acquired by the global Singapore-based Kusto Group. Operating in South-East Asia, North America and Eastern Europe, the Group owns mining and cement production plants – and operates in related categories. The owners of Kusto Group aim to preserve Tambour's market leadership while continuing to develop the brand both in Israel and globally.
Marketing Challenge
As the paint and construction materials category is often characterized by a lack of differentiation, Tambour's challenge is in differentiating the brand and its products, while establishing a clear preference among consumers towards Tambour products.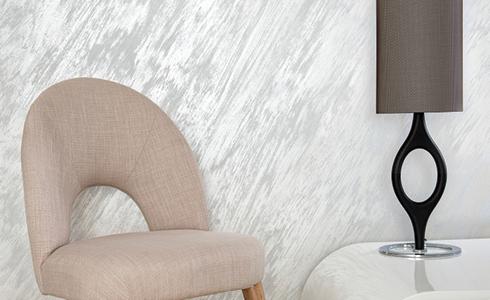 Tambour provides all the color solutions under one roof
Creative Solutions
Tambour is the only company in the market able to provide end consumers as well as construction and design professionals a complete and comprehensive package of paint and construction finishing solutions, enabling consumers and professionals alike to achieve the exact result that they wanted.
In order to communicate this differentiating advantage – while emphasizing the quality seal accompanying Tambour's package of solutions – this year the company acted in a number of parallel channels: a rebranding effort emphasizing the complete product packages; launching of a series of "How-to" videos on digital media; expanding the company's solutions packages via product innovation; and enhancing its presence in the professional market by creating a new marketing platform – Tambour Forum.
Rebranding
This year, the Tambour brand has rebranded, in preparation towards its global expansion and in an attempt to strengthen its holistic message – that Tambour's entire product package – including Gypsum boards, Gypsum and paints – enables consumers to enhance the design of their surroundings, or in other words – "Everything under one roof".
In order to achieve brand uniformity throughout all company products, this year Tambour has made the color red even more dominant in all its media communications. The company logo is now mostly in red, alongside an image of pixels containing shades from Tambour's spectrum of colors. In addition, all product lids and packaging have been painted red. The color red is traditionally identified with Tambour due to the color of the Supercryl package – the most popular product in the category. As part of the rebranding process, all company packages – covering thousands of products in the paint, industry, construction and plaster categories – are renewed in order to create a clear and uniform market leading visibility.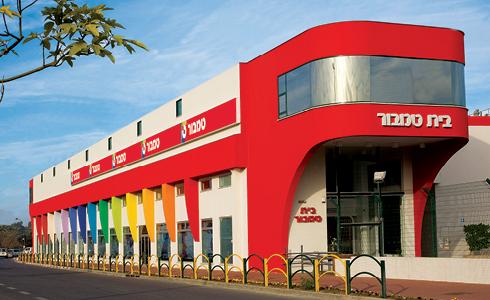 Tambour house. The beauty of colors
Leveraging Digital Platforms
With an aim to make paint effects more accessible to the general population, Tambour launched a series of simple and catchy "How-to" videos presented by the well-known interior designer Daniel Hasson and Tambour experts. In the videos, available for viewing on YouTube, Facebook and on the company website, Tambour experts teach viewers how to transform their homes by following a few very simple steps, how to correctly use colors and effects – and how to select the most suitable design to suit the nature of the house and its inhabitants.
In addition to the simple instructions, at the end of each video Hasson directs viewers to a landing page where they can schedule a free consultation at the "Tambour House" – a unique color design show room located across the Ayalon Mall in Ramat Gan, offering consulting and training services to private consumers and professionals. The color consultants at Tambour House offer innovative design ideas, as well as specific workshops such as a special effects workshop and a furniture renewal and painting workshop.
The company also offers house call services – offering consumers who are renovating or constructing a new house to invite one of Tambour's internal designers for a private consultation, for a small fee.
Product Innovation
This year Tambour launched three main products:
Kastiel & Tambour – thanks to a unique collaboration between Tambour and the prestigious Kastiel design studio, a series of premium paints have been developed for use on internal and external walls. The new paints have an excellent coating capacity, are highly cleanable, enjoy a short drying period and are durable over time. The series is available in a wide range of matt, silky or glossy finishes.
Light classic series – in recent years Tambour's experts realized that Israeli consumers prefer light, classic colors, alongside quality finishing. To address this trend, this year Tambour launched its "light classic" series, a series of "timeless" colors, enabling consumers to easily upgrade their home space. The series includes three different light colored effects: the Crocodile effect – providing a rough texture; the Jute Pearl effect – providing a shiny textile reminiscent of jute fabric; and the Safari Pearl effect – providing a delicate sandy texture.
Special Gypsum boards series – a series of Gypsum boards providing customers with a multi-functional system for internal and external walls. Among the solutions offered in the series are an acoustic noise-blocking panel; a fire defender board – fire resistant and therefore prevents fire from spreading; and a durable Gypsum board for external walls.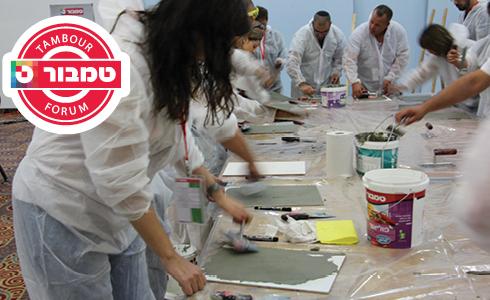 Tambour Forum provides professional color workshops
Innovative B2B Marketing Platform
In parallel to its work with private consumers, Tambour also invests ongoing efforts in strengthening the brand's ties with the professional market (architects, designers, supervisors and others). This year Tambour launched two central endeavors targeted at the professional market:
Tambour Forum – Believing that expertise is a central differentiating added value offered by the Tambour brand, the company launched a knowledge platform aimed at spreading Tambour's extensive body of accumulated knowledge among professionals. To achieve this, Tambour developed a host of workshops and seminars offered at the Tambour House and the company's factories – for professionals including renovators and gypsum and paint contractors. Upon completion of a workshop participants are awarded a "Tambour Certified" certificate. Thousands of professionals have already participated in the workshops, and have become a part of the "Tambour Forum". Tambour uses the cellular platform to communicate with forum members.
Personal paint service – over the years, the brand has closely collaborated with the architectural community, perceived by Tambour as true design partners. This year, during the Israel Design Forum's annual conference, Tambour launched a new service entitled "Personal Paint" which enables every architect to request a specific shade from Tambour, to suit his or her specific needs.

Things You Didn't Know About Tambour
Alongside the "Tambour House" – a unique show room for color design located in Ramat Gan, Tambour also operates the "Tambour Studio" – providing customers with a wide range of color samples and consulting services in over 35 retail points throughout the country.

Tambour contributes paints and construction finishing materials for community projects, where company executives and employees volunteer and take an active part in the works.

Tambour's digital platforms are used by over 100,000 unique visitors each month.

Supercryl SuperMatt was selected by consumers as "Product of the Year" in the color category.

Tambour expands its presence in the global market by establishing factories in Vietnam, Russia and additional Asian countries.

Some of the brand's milestones:
| | | |
| --- | --- | --- |
| 1936 | - | Tambour is established by the Bloomberg family. |
| 1985 | - | First radio broadcast of the jingle "Look what color can do". |
| 2010 | - | Tambour enters the plaster and dry construction industries. |
| 2012 | - | Tambour strengthens its digital presence. |
| 2013 | - | Tambour launches a new palette of colors. |
| 2014 | - | Kusto Group buys Tambour. |
| 2015 | - | The company gets a new branding while expanding its activities in the professional market. |