Teva's brands are leading the market
This year Teva launched a new tone of voice for Acamol - its pain reliever and fever reducing brand, bringing together 27 products under the Acamol umbrella brand; Teva also launched a new tone of voice for its Optalgin brand, now available also in a 50 caplet package
Published: 15.11.2015 18:00

Teva was founded in 1901 in Jerusalem as a small wholesale drug business. Over the years the company acquired additional local pharmaceutical corporations. In 1976, Eli Hurvitz, Teva's CEO at the time, formally merged all companies to form Teva Pharmaceutical Industries Ltd. – Israel's largest healthcare company.
Teva manufactures generic and brand name drugs in Israel and globally, with an expansive line of products covering over 1,000 different pharmaceutical molecules. Acamol and Optalgin are Teva's two most identifiable brands in the Israeli market.
The Story of Acamol
The Israeli pain reliever and fever reducing brand was introduced in Israel by Teva in the 1960's. The active ingredient in Acamol is Paracetamol, and at first it was sold only in tablet form.
Over the years a total of 27 different products have been marketed under the Acamol brand name, classified by five main sub-brands: Acamol (for pain relief and fever reduction), Acamoli (for pain relief and fever reduction in children), Acamol Tsinun (for treatment of the symptoms of common cold and influenza), Acamol Focus (for migraines and alleviation of severe pain), Avcamol and Avcamoli (for pain relief and fever reduction in children and adults who are unable to swallow tablets).
Competitive Environment
Many Israeli consumers use pain relievers. In the year 2000 the competition in this category was increased with the arrival of new competitors to the Israeli market.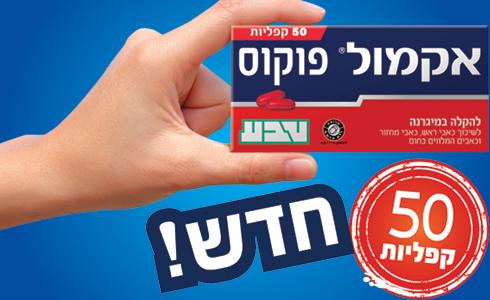 Acamol's new branding for its family of products
Marketing Challenge
Acamol is one of the oldest and most familiar brands in the category. The arrival of new competitors and the resulting changes which took place in the market have raised the need to maintain the brand's relevancy in order to preserve its market reputation.
In response to this challenge, Teva decided to continue developing innovative solutions under the Acamol brand, with an aim to address consumers' evolving needs, and to give the brand a "younger" image.
Creative Solutions
In order to address its marketing challenge, Teva decided to establish a single umbrella-brand which will encompass all of Acamol's sub-brands while communicating a unified tone of voice aimed at providing the brand with powerful visibility and added marketing value.
The unified tone of voice developed for the Acamol brand emphasizes the common aspects of all Acamol products while maintaining the uniqueness of each individual sub-brand. The uniform tone of voice is expressed in a new graphic visibility for all Acamol products packaging – in order to portray a unified language which would also be prominent on the shelf thanks to the large number of products sold under the Acamol brand name.
In a further marketing measure, Teva has launched a series of TV commercials presented by comedian Dov Navon, in which humor is used to express the fact that Acamol is an efficient solution for treating headaches, as well as the fact that "everyone has Acamol". In the commercials Navon is seen in situations in which other people (the uncle in a family gathering, an admirer on the street, etc.), pester him and cause him a headache. When Navon asks "does anyone have an Acamol?" everyone around him immediately pulls out their Acamol, offering it to him. The closing slogan is "Clearly, Acamol".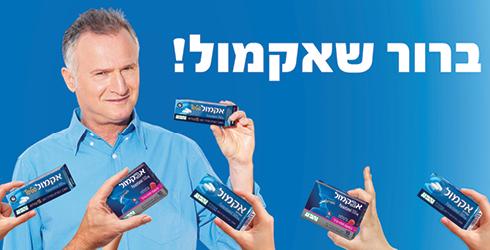 "Surly it's Acamol" new campaign
Product innovation - In parallel to developing the communication and publicity campaign, Teva also invested substantial efforts in new product development. In 2013 Teva launched two new products – Avcamol and Avcamoli – providing solutions for children and adults who have trouble swallowing tablets or drinking syrup. Avcamol (a combination of the words "Acamol" and "Avca" - the Hebrew word for "Powder") is a new and unique form of pain reliever administration, available in a variety of flavors, for children and adults over 12 years of age.
Avcamoli kids is a new and unique form of pain reliever administration for children over 4 years of age.
In addition, in 2015 Teva launched "Acamol Focus" in a 50 capsule package. Additional product launches are expected later this year.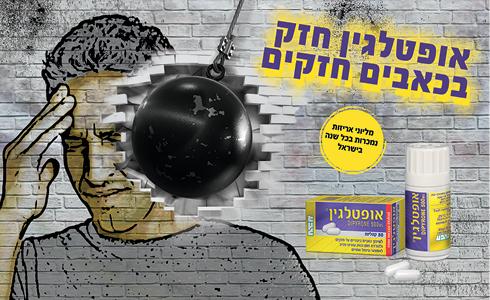 Optalgin's campaign for severe headaches
The Story of Optalgin
For decades Optalgin was sold in Israel as an analgesic for the relief of moderate to severe pain and for reducing high fever that does not respond to other treatment methods. Optalgin is based on the Dipyrone molecule, and was first sold in Israel in 1976 as an OTC drug. Teva sells a number of additional products under the Optalgin brand: caplets (21 and 42 unit packages), tablets, drops (10 ml and 15 ml), and ampules for injection. Optalgin can be identified by its brand colors of yellow and purple.
Marketing Challenge
Optalgin is a well-known brand in the category. However, it is often more strongly identified with the older populations, compared with newer competitors in the category.
Creative Solutions
Teva decided to update Optalgin's tone of voice, with an aim of increasing the product's relevancy and attractiveness among younger populations. The new tone of voice was delivered mostly via TV commercials, billboards and print advertisements. In 2013 the brand launched a series of humoristic campaigns presenting situations requiring a solution for severe pain – a football player moaning in pain, a parachutist whose parachute gets caught in a high tree, and more.
In 2015 younger audiences were addressed with a video showing a brick wall with a graffiti of a young man suffering from a headache. The narrator declares that "Something strong is approaching", when an iron ball appears, crashing the wall (and the headache). The video ends with the words: "Optalgin. Strong for Strong Pain. Millions of packages sold in Israel every year", while in the background we see a young man/woman smiling with relief.
In addition, this year Optalgin launched a 50 caplet package in a convenient, rattling plastic container.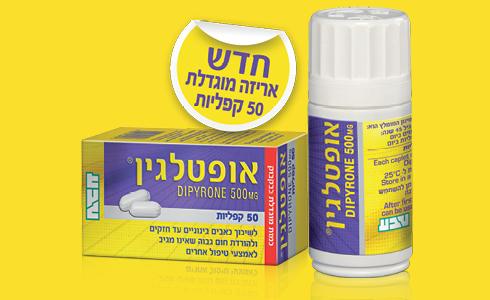 The new Optalgin package is young and smart

Things You Didn't Know About Acamol and Optalgin
The name Acamol was invented in the 1960's by pharmacist Zvi Maor RIP, who was responsible for its development. Maor created the brand name by using the beginning of the drug's name in the USA – Acetaminophen and the end of its European name – Paracetamol.

Every year millions of packages of Acamol and Optalgin are sold in Israel.

Preparations containing Dipyrone have been available on the market for more than 70 years.

Optalgin drops can be used as of 3 months of age, according to the dosage prescribed on the product's consumer leaflet.

Optalgin is one of Israel's oldest and most well-known brands.

Some of the brand's milestones:
| | | |
| --- | --- | --- |
| 1901 | - | Teva is founded in Jerusalem as a wholesale drug business. |
| 1976 | - | Optalgin is launched in Israel. |
| 1976 | - | Acamoli syrup is launched. |
| 2000 | - | Acamol Zinun is launched. |
| 2006 | - | Acamol Focus is launched. |
| 2013 | - | Launch of Avcamol and Avcamoli. |
| 2015 | - | A new tone of voice for Acamol; launch of Optalgin 50 capsules package; launch of Acamol Focus 50 capsules package and new design of 27 Acamol brand product packages. |