Teva Naot makes you look good when you feel good
In today's consumer reality, the name of the game is personalization and innovation. This is why this year Naot Footwear has invested in strengthening its digital presence and also launched two new product lines – a unique line of personally designed shoes, and Naot Art – hand painted footwear
Published: 15.11.2015 18:00

Established in 1946 at Kibbutz Naot Mordechai by a group of immigrants from Czechoslovakia and Argentina, Naot Footwear (in Israel known as "Teva Naot") has evolved into a leading Israeli footwear company, and later an international comfort shoes brand. The company entered the "comfort shoes" category in 1986, following development of its anatomical insole – made of cork and natural latex – that adjusts itself to the wearer's foot.
Since then, Naot Footwear has focused on manufacturing handmade comfort shoes by combining traditional manufacturing methods and advanced technologies.
In 1989 Naot Footwear signed its first distribution agreement outside Israel – with the American company Yaleet (which two decades later would acquire ownership of the entire company).
In 1998 Michael Illouz was appointed CEO, a role he continues to hold to this day. Mr. Illouz succeeded in elevating the brand, which at the time was affected by an ongoing crisis in the Israeli shoe industry.
Today, Naot Footwear operates a chain of 61 stores under the brand's name and its products can be found in over 150 additional retail stores in Israel and over 6,000 stores worldwide.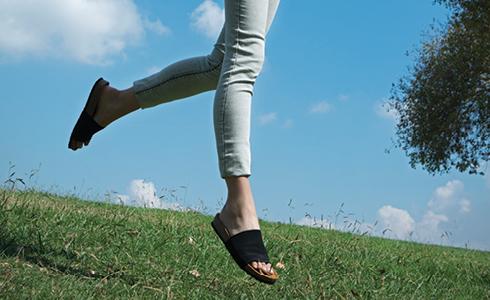 Teva Naot's shoes: becoming one with the nature
Global Operations
Having established its Israeli presence, the company management commenced distribution of its products to the USA, Canada, Australia, Europe and Asia.
In 2010 Naot Footwear's export operations reached $40 million, following which it was awarded the Israeli Export Institute's "Excellent Exporter" award. Today, 70% of the factory's products are directed to international markets. Over the past decade the brand entered new markets in Japan, South Korea, Singapore, Romania, and even Papua New Guinea.
The Competitive Environment
When Naot Footwear launched its anatomical insole in 1986, it was the first in Israel's comfort shoes category – thereby establishing itself substantially ahead of its competitors in the footwear industry.
Nowadays, competition in the comfort shoes category has grown stronger, mostly from the Far East, offering reduced prices and low quality; in comparison, Naot Footwear's products are handmade, using high quality raw materials imported from Europe – a fact that does not allow it to offer low rates. The company realized that in order to grow, the brand must provide a significant added value, beyond comfort and product quality.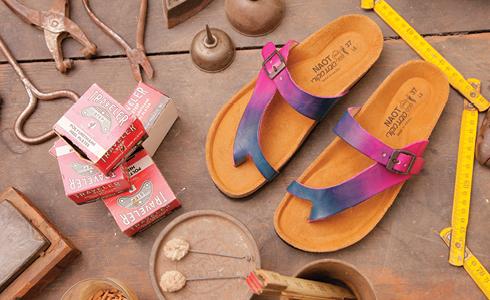 The new think from Teva Naot is personalized shoes
Marketing Challenge
Towards its 70th birthday, Naot Footwear's main challenges include maintaining its leading position in the Israeli comfort shoes market in view of growing competition from various importers, and maintaining its relevancy in the dynamic and constantly changing global fashion industry.
Creative Solutions
To provide added value to its customers, the brand adopted an ongoing innovation strategy, beginning at the product level, through development processes and marketing innovations. To support this strategy, this year the company initiated a number of core projects: Personally designed footwear: an understanding that each customer wants to be unique, and an aim to strengthen its differentiated position as a leader in Israel's comfort shoe market, have led Naot Footwear to develop a unique application which enables consumers to digitally design their own comfort shoe, delivered directly to their home within two weeks. In order to cope with the challenge of personally designed shoes, a separate production line was assembled, operated by a dedicated team.
Naot Footwear's personally designed footwear line differentiates the company from local footwear importers, who are unable to provide a similar solution in the local market.
Naot Art: All Naot Footwear shoes are handmade, but in Naot Art - the unique line of shoes launched this year - even the leather is hand painted using a unique technology developed by the company, in collaboration with an Italian leather painting expert. Thanks to this innovative production process each shoe has a different, unique look. Alongside the personal shoe designing application, Naot Art addresses consumers' need for personalization and individualism.
R&D innovation: Twice a year – before summer and winter – Naot Footwear implements a unique selection process for the brand's new models. Initially the company's designers present 400 ideas for new models. The final collection, comprising up to 250 new models each year, is then assembled via a structured process involving marketing, development and design departments as well as distributors from four continents.
In addition, Naot Footwear has established a "School for footwear professions" where all production and development employees are trained, in order to preserve and utilize the traditional knowledge and professionalism accumulated by the company over the past 70 years.
Concept store: this year the brand has launched its first concept store, located in the center of Tel Aviv. The store's design was inspired by leading fashion shops in Milan and New York, in a project carried out by interior design graduates from the Bezalel Academy of Arts and Design, as part of the company's belief in the importance of training students to take part in the industry. Academic collaboration: as part of the company's goal to establish collaboration between academics and industry, this year Naot Footwear executives mentored students from leading academic institutions. This venture resulted in joint projects between Naot Footwear's Design Department and Shenkar College and Bezalel Academy; Naot Footwear's Sales Department and the College of Management – and between Naot Footwear's Marketing Department and Students of Management at the Interdisciplinary Center in Herzliya. Throughout these projects, Naot Footwear's executives volunteered to train students for working in the Israeli industry while implementing the highest standards used by global fashion corporations.
Teva Naot's shoes were starring in the "Hunger Games" series
Marketing Innovation
Naot Footwear is among Israel's first retailers to use WhatsApp for its marketing efforts. In last year's "Most Israeli Brand" WhatsApp campaign, the company sent videos taken in locations identifiable with "the Israeli experience". Each video was followed by a question relating to Israel and Israeli culture. Over 80,000 teenagers took part in the campaign, making it the largest WhatsApp fashion campaign of its kind.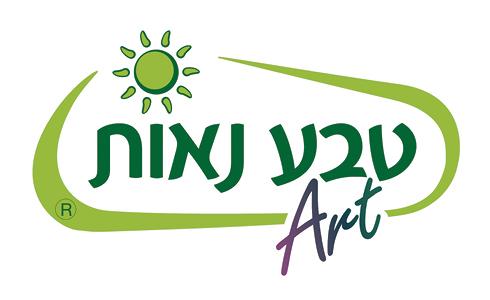 Teva Naot Art. A unique look and design to each shoe

Things You Didn't Know About Naot Footwear
Naot Footwear's shoes are all handmade in Israel.

The company's Israeli name "Teva Naot". is a combination of the Hebrew word "Teva" (Nature) and the name of the Kibbutz where the shoes are manufactured (Naot Mordechai).

Naot Footwear has sold over 40 million pairs of shoes worldwide.

Naot Footwear is among the most sold brands on Zappos – the US based online shoe store.

The "Scout" model was selected as the official shoe for the "Hunger Games" movies, worn by their 660 actors, including stars Jennifer Lawrence and Liam Hemsworth.

Some of the brand's milestones:
| | | |
| --- | --- | --- |
| 1946 | - | Establishment of the Naot Footwear factory. |
| 1986 | - | The factory focuses on comfort shoes with the anatomical insole. |
| 1989 | - | The brand signs its first distribution agreement in the USA. |
| 2002 | - | The company is rebranded under the slogan "You are most beautiful when comfortable". |
| 2004 | - | The Naot Footwear chain of stores is established. |
| 2006 | - | The Shamrock Foundation acquires control of Naot Footwear. |
| 2009 | - | Naot Footwear acquires Dafna Shoes. |
| 2010 | - | The company enters the Dressy Casual product category. |
| 2014 | - | Steve and Suzan Lax, Naot Footwear's American distributors, buy the company. |
| 2015 | - | Naot Footwear launches two new product lines – personally designed shoes, and Naot Art – hand painted footwear. |